OUR PROCESS
The renowned quality and reliability of Clark Tanks is the result of continually improving and refining its tank design and moulding expertise over the past decade. The same dedication to quality workmanship is applied to Clark Industrial Tanks today.

Clark Industrial tanks are precision rotomoulded to comply with AS-4776:2006 (ASTMD-1998-87) and manufactured to contain liquids with a range of specific gravities (SG 1 – SG 1.5 – SG 2). All our industrial tanks are compatible with the storage of a wide range of chemicals, such as sodium hypochlorite, liquid alum and hydrochloric acid. They range in size from 500 litres to more than 46,000 litres.

Our range of industrial fittings includes extension flanges, backing rings in Table D, E and ANSI available in galvanised, stainless steel and plastic coated, full face flanges and a huge range of BSP threaded fittings. We also supply sight glasses and float level assemblies, along with lifting lugs and hold-down lugs.

If the tank you need is not in our current range, talk to us about your special application requirements. We may be able to provide a cost-effective vessel that has the particular design or composition features you need.

Similarly, if a particular fitting is not included in our current range, your Clark Industrial representative may be able to source it through our established network of suppliers.


Aeropack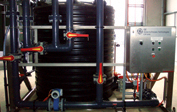 "Aeropack have been building a new manufacturing facility. Like any major project, timing and quality is crucial. The delivery of the polyethylene chemical storage tanks was critical for us to achieve other milestones. We received the tanks from Clark Industrial ahead of schedule fully fitted out, ready to go. All the requirements of our designs were fully met. Certainly, a high quality product and service."

David Beech
Engineering Manager
Aeropack Australia Pty Ltd