ABOUT US
Clark Industrial Tanks is a division of Australian Water Systems, a leading national provider of water management solutions across rural, residential, commercial, industrial and municipal sectors.

In the industrial sector, Clark Industrial Tanks provides a consulting service by specialists in industrial liquid storage who collectively have decades of experience in supplying custom-fitted tanks for a broad range of applications. These include industrial water storage, water treatment, effluent treatment and mining applications, as well as chemical, liquid feed and liquid fertiliser storage.

We have manufacturing sites in Queensland (including Far North Queensland), New South Wales and Victoria, and our established national distribution service ensures that our products are delivered on schedule and in excellent order, ready for installation.

The division's National Business Manager oversees its operation, while area sales managers service Queensland, New South Wales and Victoria.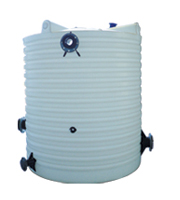 QUALITY STANDARDS
Clark Industrial tanks are precision rotomoulded to comply with AS-4776:2006 (ASTMD-1998-97) and manufactured to contain liquids with a range of specific gravities (SG 1 – SG 1.5 – SG 2). All our industrial tanks are compatible with the storage of a wide range of chemicals, such as sodium hypochlorite, liquid alum and hydrochloric acid. They range in size from 500 litres to more than 46,000 litres.

Water & Process Technologies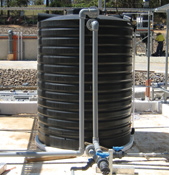 "I think that Clark Industrial Tanks have done a terrific job for us at our Spring Gully Project. Prior to this project, we had been conducting the majority of our business with another tank fabricator who we were having many problems with. Spring Gully was the first of the projects that we have worked together on; from our end it has been a success and we hope to continue the established relationship on future projects."

Isa Goktas
Water & Process Technologies
Engineering Manager, Australia/New Zealand