WELCOME TO CLARK INDUSTRIAL TANKS
Clark Industrial provides a specialised consulting service for the supply of custom-fitted industrial tanks for industrial water storage, water treatment plants, chemical storage and processing, liquid feed and liquid fertiliser storage.

Clark Industrial tanks are designed and manufactured to meet specific industrial requirements. We also offer a full range of fittings that can be fitted to the tank to your specifications at our manufacturing sites in Queensland (including Far North Queensland), New South Wales and Victoria.

With specialist consultants whose collective experience spans decades, Clark Industrial offers a depth of expertise and strength in customer service that sets the benchmark in the industrial tank sector nationally.

Our sister company, Clark Tanks, is a leading manufacturer of quality rain water tanks and farm products, designed and built to last in tough Australian conditions. As an Australian owned and operated company, Clark Tanks are committed to providing quality products designed to meet the needs of rural and residential Australia.

Visit Clark Tanks website

Omega Chemicals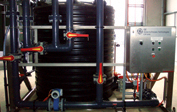 "As a chemicals manufacturing company, Omega Chemicals has on many occasions over the years required the use of a range of industrial polyethylene storage tanks for a wide variety of uses from storage of chemicals to the mixing of blended products. Clark Industrial has offered the service and quality that befits our quality assured company requirements, at a competitive price. Access to after sales service and support has been a standout aspect of the way that Clark Industrial Tanks have conducted themselves in the marketplace. I have absolutely no reservations in recommending both the product and service offered by Clark Industrial."

Bob Gray
National Operations Manager
Omega Chemicals